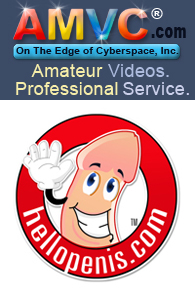 ---
---
---
---
---
Amateur Gay Porn
AMVC XXX Videos
Privacy Statement
---
AMVC.com Privacy Policy


AMVC.com is strongly committed to protecting your privacy. Throughout our site, we want to contribute to providing a safe and secure environment for you, our welcome visitor. Please review our Privacy Policy below.
Contact Information
If you have questions or concerns regarding this Policy, you should first email AMVC.com Customer Service Here or contact us by mail at AMVC., 1509 E Madison St #101, Seattle WA 98102

This Policy applies to all U.S.-based sites under the AMVC.com domain and any co-branded sites powered by and hosted by AMVC. but listed under a different domain name. In addition, this Policy does not apply to other company's or organization's Web sites to which we link to or which contain a link to our Site.

Discreet Shipping
AMVC.com understands our customer's need for discretion, when receiving ordered products. Therefore, we ship in a plain mailer.

Information Collected On All Site Visitors
We gather certain generic information with respect to visitors' use of the Site such as the number of visitors, the frequency with which they visit and the areas on the Site that they favor, very much like television ratings that tell the networks how many people tuned in to a program. We only use this type of data in aggregate - that is, we look at the data on a collective basis, in summary form, rather than on an individual basis. This collective data helps us determine the extent to which our customers use certain parts of the Site, which, in turn, enables us to make the Site as appealing as we can make it for as many of you as possible. We also may provide aggregate stats to our AMVC.com Partners and/or Advertisers about how our customers, collectively, use the Site. We do this so they, too, can understand how often people use their areas of our Site in order for them to provide you with the best possible Web experience as well. These statistical ratings do not contain any personally identifiable information about you or any of our users!

Cookies and IP Addresses and How They Are Used
AMVC.com sometimes uses a technology nicknamed "cookies." Cookies are pieces of information, or data, sent to your browser from a web server and stored on your computer's hard drive for record-keeping purposes. AMVC.com uses cookies to make visiting our Site easier. For example, the cookies that we place on your hard drive might allow us to save passwords for you so that you will not have to re-enter them the next time you visit. In addition, we also use cookies to help us track how many unique visitors we have to our sites, as a type of aggregate traffic counter. Most browsers are initially set up to accept cookies. If you prefer, you can reset your browser to notify you when you've received a cookie or, alternatively, to refuse to accept cookies. It is important to note that you may not be able to use certain features on our Site if you choose not to accept the cookies we send to your computer. AMVC.com cookies do not collect personally identifiable information and we do not combine information collected through cookies with other personally identifiable information to tell us who you are or what your email address or screen name is.

An IP address is a unique number assigned to your computer when you are using your browser on the Internet. AMVC.com collects and tracks Site traffic by IP address. We log this information for the sole purpose of tracking the number of visitors to the Site and we don't personally link your IP address to any personally identifying information, except for our Producer's area which is for Producers-only and your IP address is logged and kept on file when you use our contact page for inquiries, which is kept indefinitely, but never used for purposes other than identifying abusers, etc.

In addition, we send out email updates only to those who subscribe. These emails about our New Releases and/or Sales/Specials are sent out only twice a week and, again, you must have personally subscribed to them. You may click the link at the bottom of the email to be removed. We also monitor customer traffic patterns and Site usage to help us enhance the design and layout of the Site and make it easier for you to navigate the Site.

How We Collect and Use Information on Customers
If you elect to become a customer, you will be asked to provide us with certain personal information such as name, address, email address, zip code, birthdate, etc. Purchasers are required to provide the foregoing information as well as certain credit card information and the corresponding billing address. Our registration process also allows you to provide us with permission to send you our email newsletter as well as other promotional emails from AMVC.com or our Partners. The registration process also may ask for additional information regarding your preferences and interests. All information requested from you during the registration process is clearly marked as required or optional, as applicable. No credit card information is kept on our servers, or by us at all, except in the case of large purchases that require you to fax, email, or mail us a front/back copy of your credit card and some other information, along with your signature. This information is filed for future large purchases, but is kept in our office only and not on any server/computer.

In general, we use the information we collect on customers who have chosen to receive such information in the following ways:
To provide a more personalized site experience through our aggregate stats (see above) ;
To send the customer news and information about AMVC.com, if subscribed;
To contact the customer for feedback and/or surveys; and
To send promotions and offers based on the customer's interests;
We do not send or share any of our customer's personal information with third parties without the customer's permission. However, there may be special circumstances under which we are required to do so. Please refer to Special Disclosure Exceptions, below.

During a purchase or promotional process, customers may be asked whether they want us to share their contact and profile information with third parties or affiliates. We may also provide our customers with opportunities at other times to receive information about additional products and services, but we will never share a customer's personal information with third parties unless the customer grants us permission to do so. Even if a customer grants us permission to share the customer's information with third parties, the customer may, at any time, revoke that permission; see Changing Your Status, below.

Sharing Information
As a strict policy, AMVC.com does not share, rent or sell any personally identifiable information that we own on customers or customers with any third parties without your permission. The only exceptions to this policy are 1) special circumstances described below that relate to legal or site abuse investigations, 2) the sale, or potential sale, of this site or company.

In addition, AMVC.com has several special relationships with other web sites ("Partners"). In some instances, the site or area of the site is "co-branded" or "powered by" with a Partner's logo or a Partner's name may appear in the URL. When you provide purchasing data on a co-branded site or area, personal and/or aggregate data may be shared with with us from that partner. You should review the individual privacy policies of these partners (aka., "third-party sites) and make an informed decision about whether to continue with that site. You may opt-out of sharing your information with that partner by choosing not to register or use that site or service.

Special Disclosure Exceptions In some cases, we may disclose your personal information with other third parties if we are required to do so by law or we in good faith believe that such action is necessary to:
Comply with the law;
Protect and defend our rights and property;
Protect against misuse or unauthorized use of the Site and/or AMVC.com services; or
Protect the personal safety or property of our users or the public.
An example of the foregoing is if you provide false registration information or attempt to pose as someone else while registering or making a purchase; information about you, including your computer's IP address, may be disclosed as part of any investigation into your actions.

Controlling The Use Of Your Information / Changing Your Status
Because we want our customers to feel completely comfortable using our services, we provide you with various opportunities to control how your information is being used and the communications you receive.

Update or Remove Your Email Subscription
An email subscriber can edit their email address that they used when subscribing to our email list, or choose to unsubscribe from email reminders for which the subscriber previously signed-up to receive, by clicking the link provided at the bottom of the received email. Changes and/or removal is immediate and you can subscribe to our email updates by accessing AMVC.com and subscribing. You can also make changes to this information by emailing our customer service department Here.

How AMVC.com Protects Children
AMVC.com is committed to protecting the privacy and rights of children online. We believe that children should be able to use the Internet in a safe, productive and efficient manner and should be afforded the highest protection available with respect to their personal and otherwise individually identifiable information.

In addition, we will neither solicit, nor knowingly collect any individually identifiable information, from anyone under the age of 18. OTEC, Inc. has voluntarily submitted all of our sites, that contain adults-only material, to certain Parental Control databases that allow voluntary submissions from adult webmasters. We feel strongly that it is the responsibility of the parent to monitor, control, and educate their children about the internet and obtaining/implementing a Parental Control Software, so their children are unable to access xxx material. We've fulfilled our obligation to helping out parents in this endeavor, by voluntarily submitting our sites to the most popular Parental Control Software currently on the market, but we are not your child's babysitter.

Data Security
We take seriously the issue of safeguarding your privacy online. We have industry security measures installed such as Secure Socket Layer (SSL) technology to encrypt the information you send us when you place your order. The information is encrypted on your computer, sent through the Internet as jumbled code, and decoded on our shopping cart's secure server. Internally, we restrict access to personally identifiable information to employees who need access to the information in order to do their jobs. These employees are limited in number, and are committed and legally-bound to our privacy and security policies.

Updates To This Policy
AMVC.com reserves the right to change, amend, or update this Privacy Policy without notice. Any modifications made to any of our Terms of Service, Privacy Statement, et al, will be located on the appropriate pages located on the amvc.com website. Continued use of the Site after such notification shall indicate your consent to use of your information in accordance with the changed, amended, or updated Privacy Policy. If you do not agree with such changes, amendments or updates, you may request that your personal information be removed from our database as described above.








Click Here To Leave Now
If You Disagree With These Policies
---
HELLOPENIS.com
---
© AMVC - 1997-2023 - All Rights Reserved.
Prices and Terms of Service are subject to change without notice.
Void Where Prohibited.
We are not liable for pricing or typographical errors.
Our porn videos are amateur-homemade for adult entertainment and/or marital aids for couples, and may never to be viewed by minors.
Videos on this site must be purchased and are for personal, non-commercial use, only.
Some links on this site are third-party affiliate links that earn us commission, but we are not liable for any third-party content, so be careful when leaving our site!


Accessibility: We are currently trying to convert this entire site to be accessible for all adults. Thank you for visiting and your patience in the interim.






All porn videos comply with USC Title 18 Section 2257 and CFR Title 28 Section 75. Void where prohibited. ADULTS ONLY!