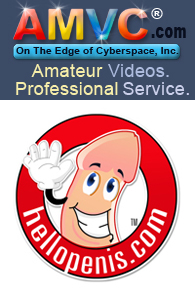 ---
---
---
---
---
Amateur Gay Porn
Join The Gay Update List
10% Discount Code For Email Subscribers Only!

If you ARE NOT
on AOL then use
this form to join

If you ARE
on AOL please get
a free email account
on another service
first then come back
and subscribe.

Yahoo Mail
Hotmail





AOL Users: We have tried and tried to get our emails through to AOL customers but we are repeatedly blocked by AOL. We do not spam and our email list is a double-opt-in system, but that's not enough for the all-powerful and all-knowing AOL. For that reason we can no longer accept email list subscriptions from AOL.com or CS.com addresses. We urge you to get a free email account on Yahoo Mail or Hotmail and then come back to AMVC and subscribe using that new email address.
---
HELLOPENIS.com
---
© AMVC - 1997-2023 - All Rights Reserved.
Prices and Terms of Service are subject to change without notice.
Void Where Prohibited.
We are not liable for pricing or typographical errors.
Our porn videos are amateur-homemade for adult entertainment and/or marital aids for couples, and may never to be viewed by minors.
Videos on this site must be purchased and are for personal, non-commercial use, only.
Some links on this site are third-party affiliate links that earn us commission, but we are not liable for any third-party content, so be careful when leaving our site!

Accessibility: We are currently trying to convert this entire site to be accessible for all adults. Thank you for visiting and your patience in the interim.





All porn videos comply with USC Title 18 Section 2257 and CFR Title 28 Section 75